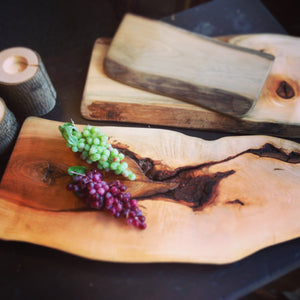 Charcuterie Board
These Deepwater serving boards are created from logs that have been drawn from the depths of Ontario lakes. Timbers were felled by axe in the 1800s, moved to lakes and rivers, but were lost to the bottom before making it to the sawmill. Today these recovered logs are hand milled and kiln dried, then saturated and buffed with a food safe mineral oil and beeswax blend. 
Each board is unique in colour, size and grain

Sizes are approximate and vary from board to board.